Xero Integration with Online Check Writer
Steps to Integrate Your Xero Account with Online Check Writer
Connect Company
Step 1: Click on Connect button.
From the side menu, go-to integration-> Xero. On clicking Connect, you will be redirected to the login page of Xero. Provide your credential and log in to the application.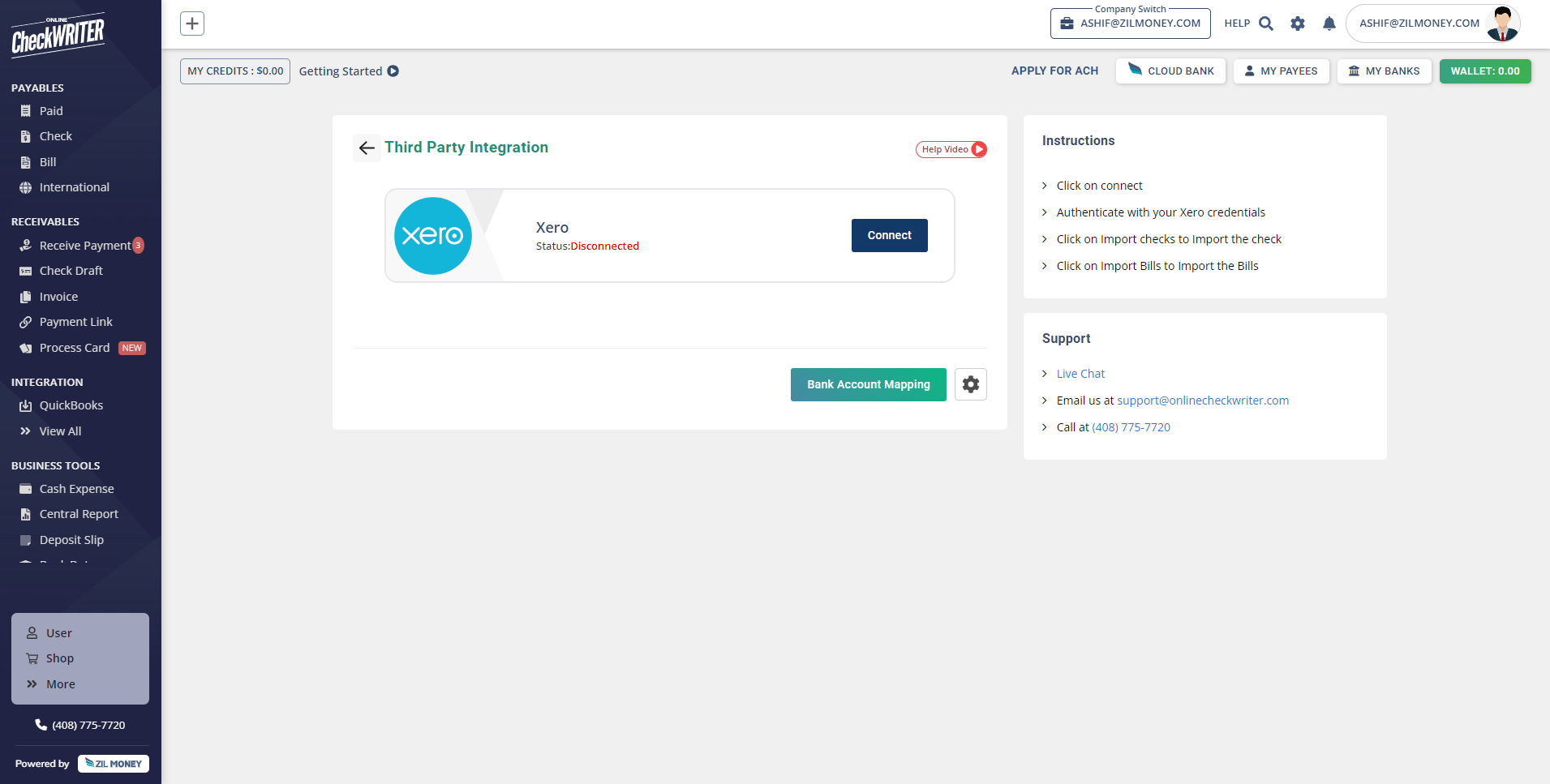 Step 2: Select the Companies and Click Connect.
Once you log in to Xero, you will be asked to select the company to connect. Select the company from the dropdown menu and click on "Allow access".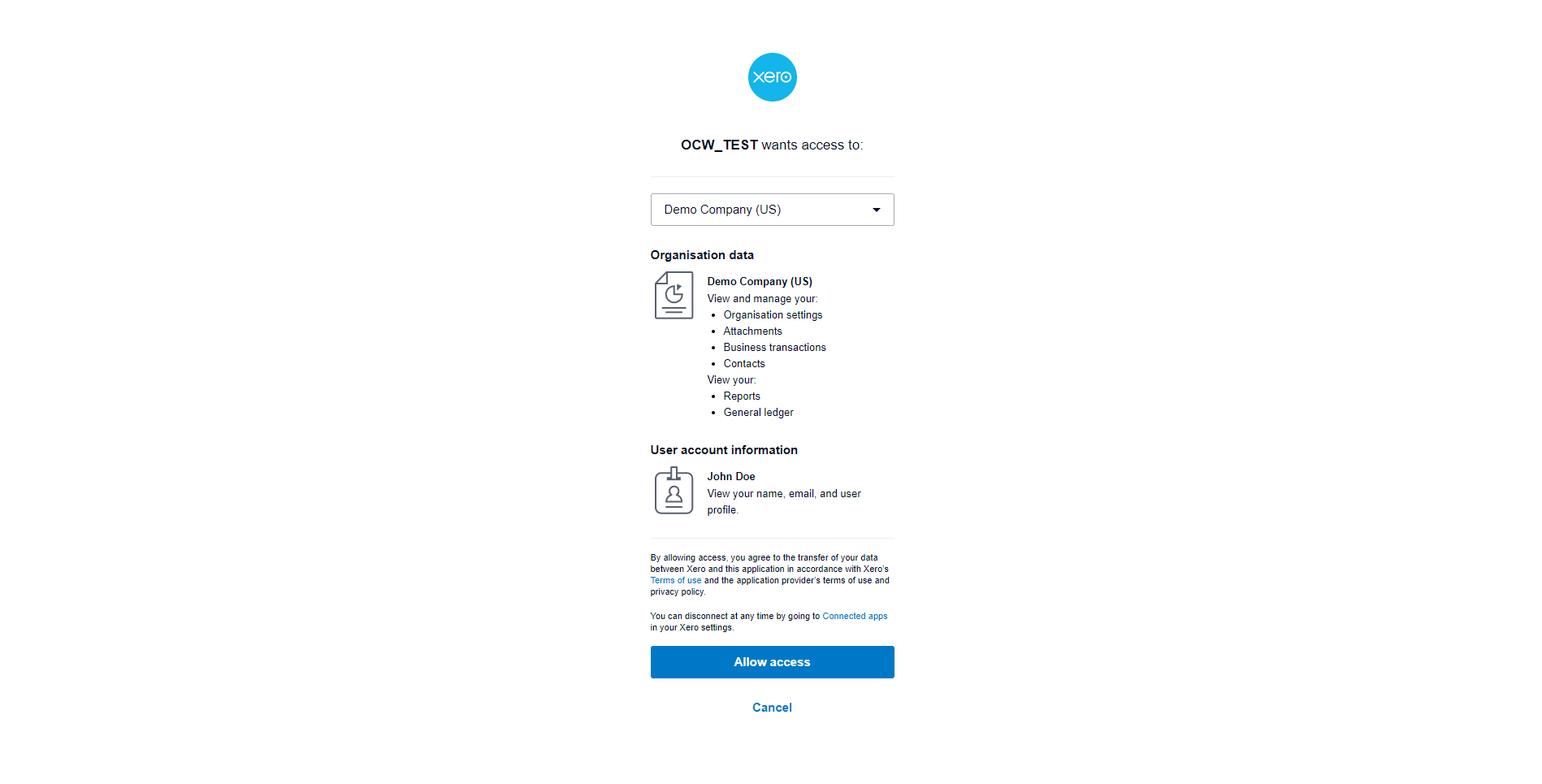 Step 3: If there is no issue you'll get a success message.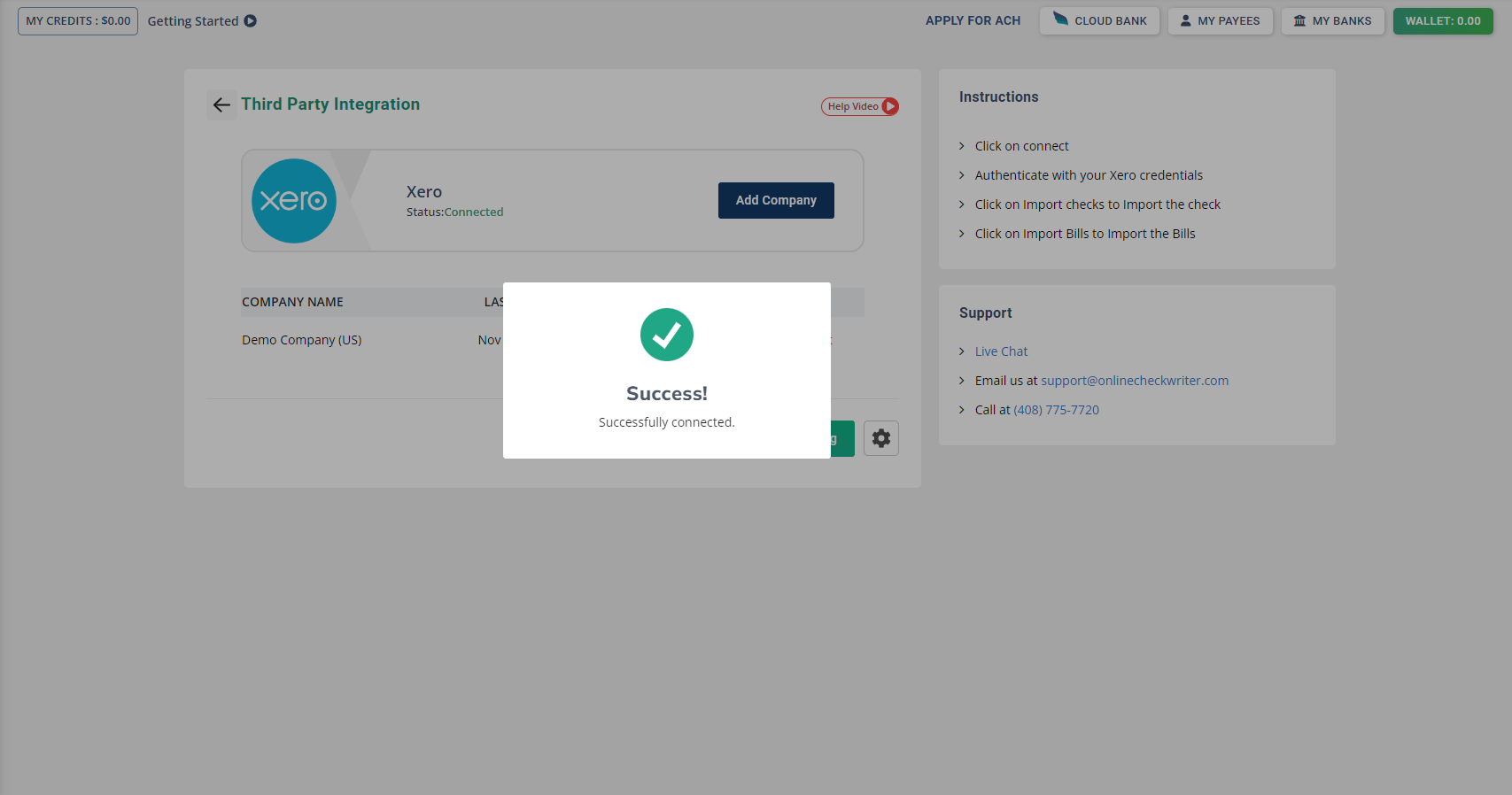 Step 4: You can add more companies in the same way by clicking Add Company on the Xero home page.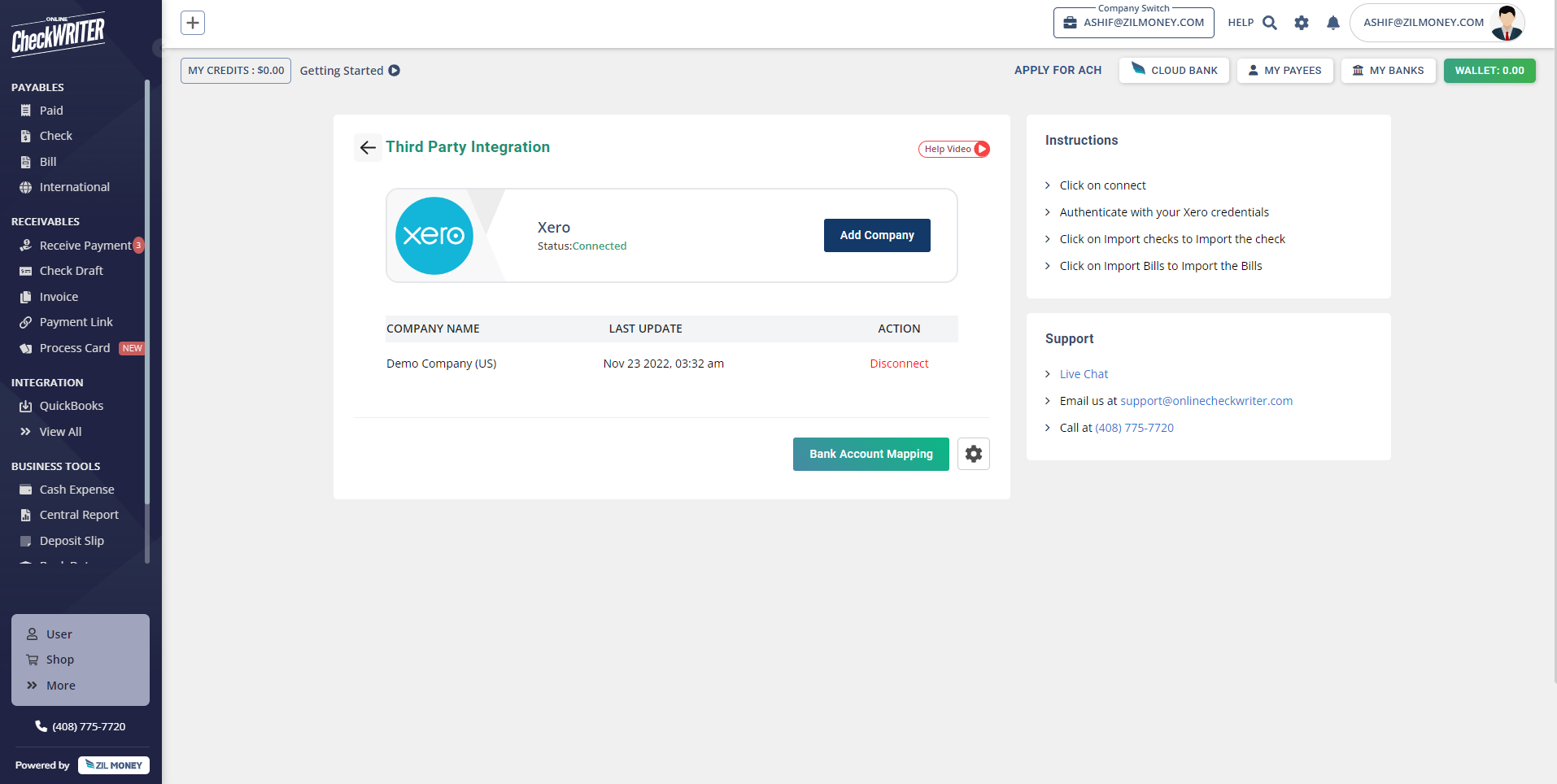 Import Bank accounts
Step 1:
Click the Bank Account Mapping button on the Xero Home page.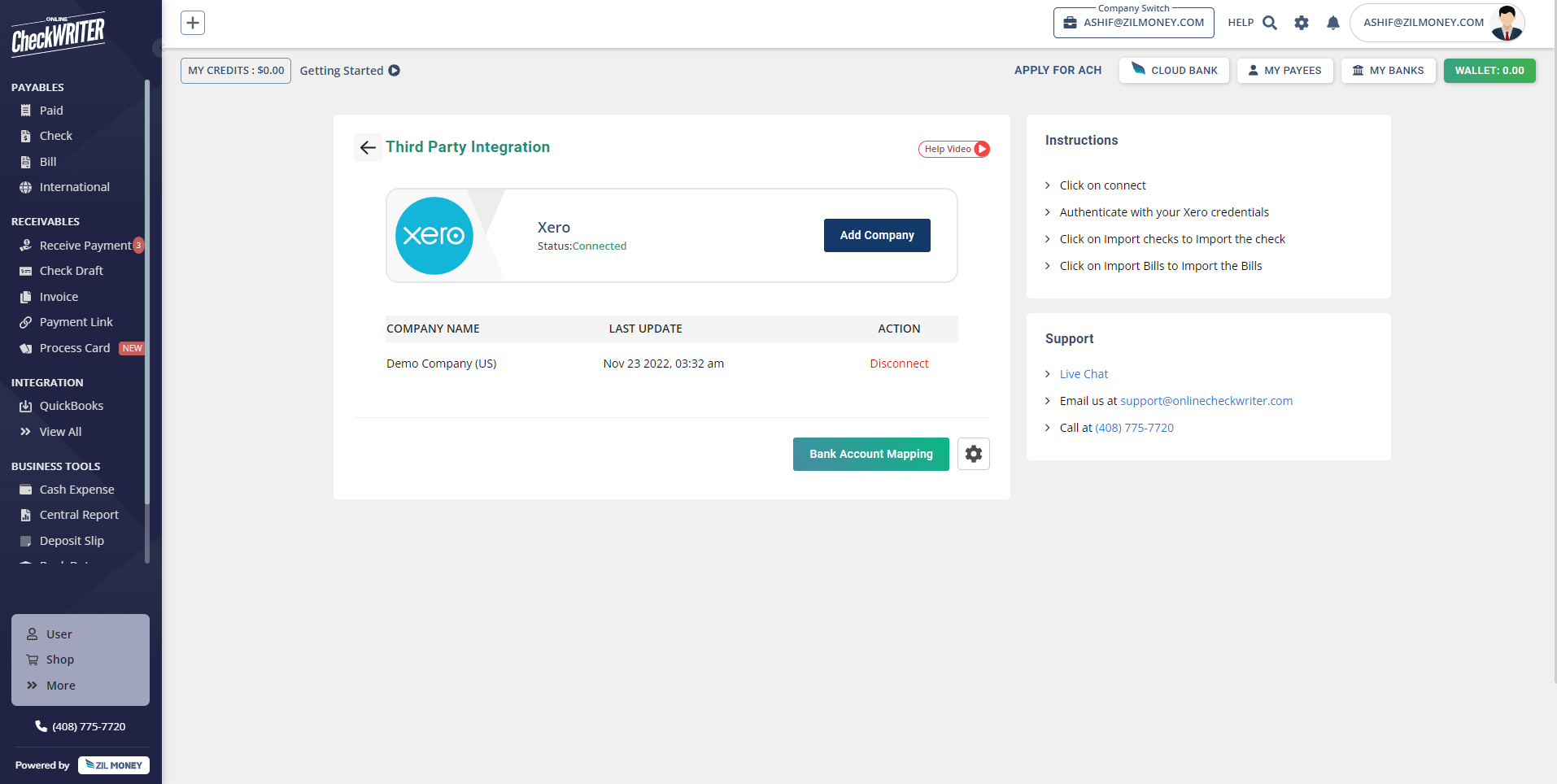 Step 2: Click Import Bank Accounts Button, and select a company to import bank accounts.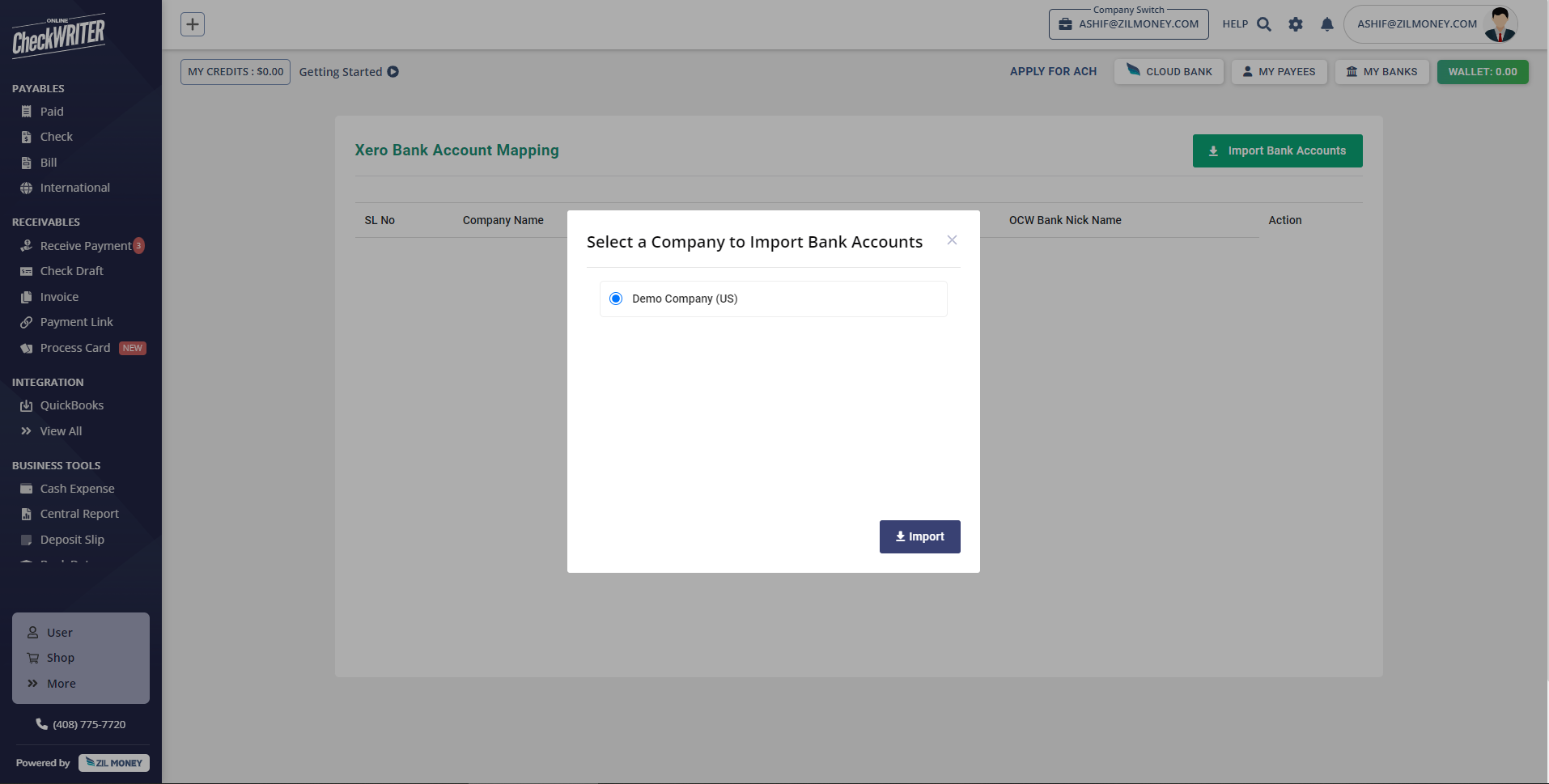 Step 3: If there is no issue, you'll get a success message, And you can see the imported bank account list.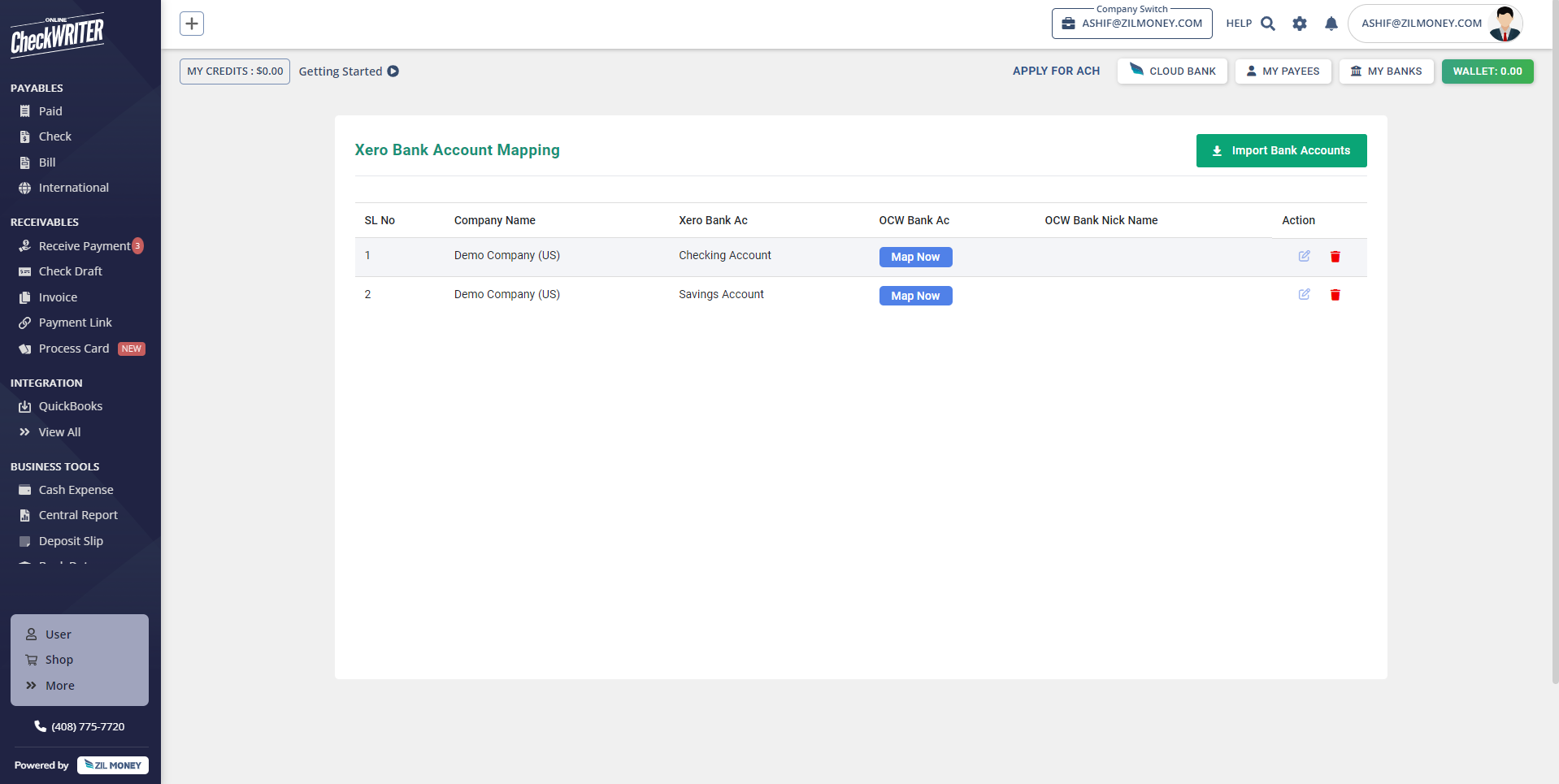 Step 4: Mapping:
You can map the bank account from Xero to the bank account in OCW. Click map now button that corresponds to the Xero bank account.
Select the ocw bank account from the drop-down list and click the map now button. You will get a success message.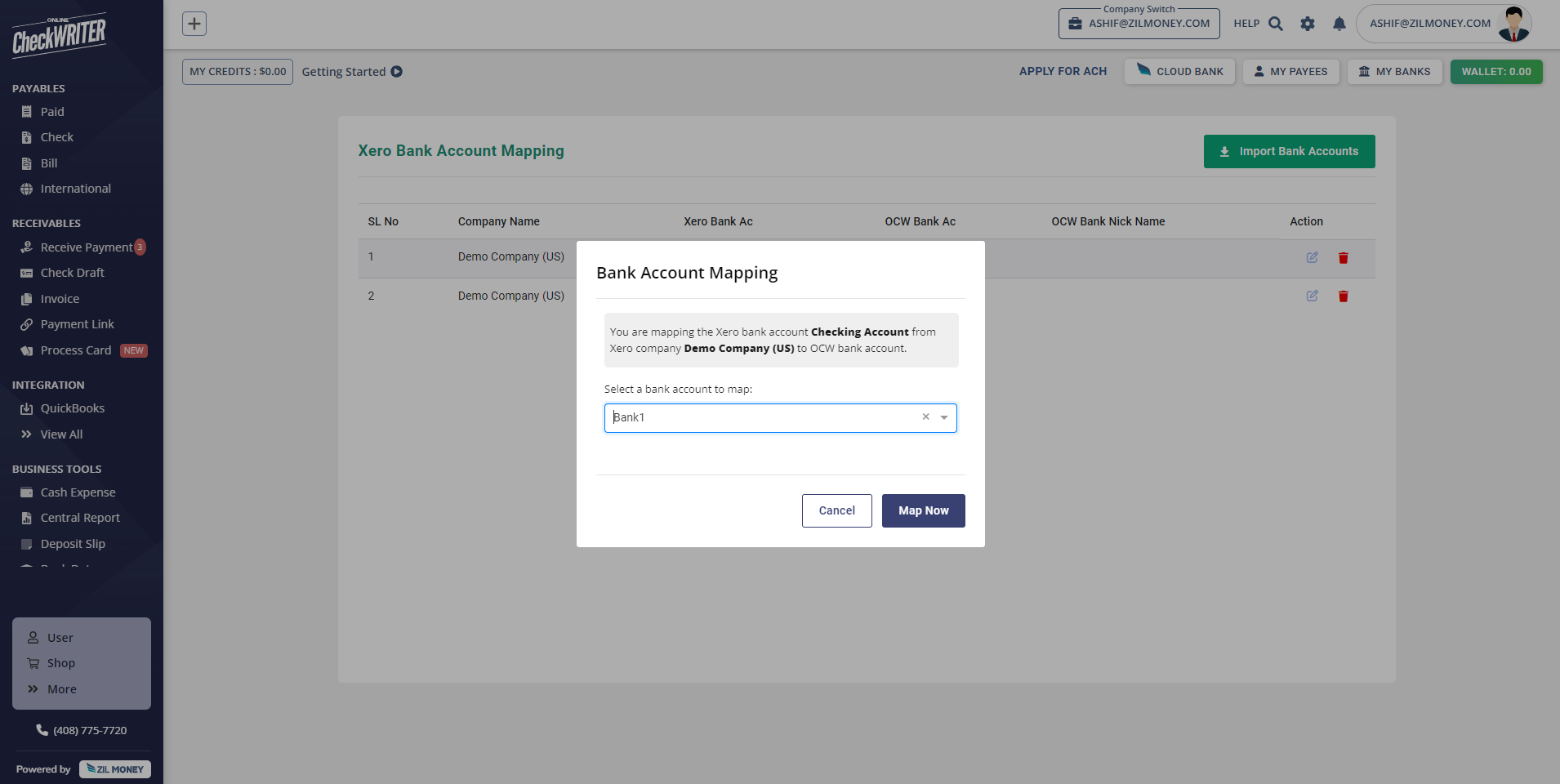 Import Bill / Invoice
Step 1: Goto the Bill/Invoice List page. Click Import button on top-right side of the page, select option Xero.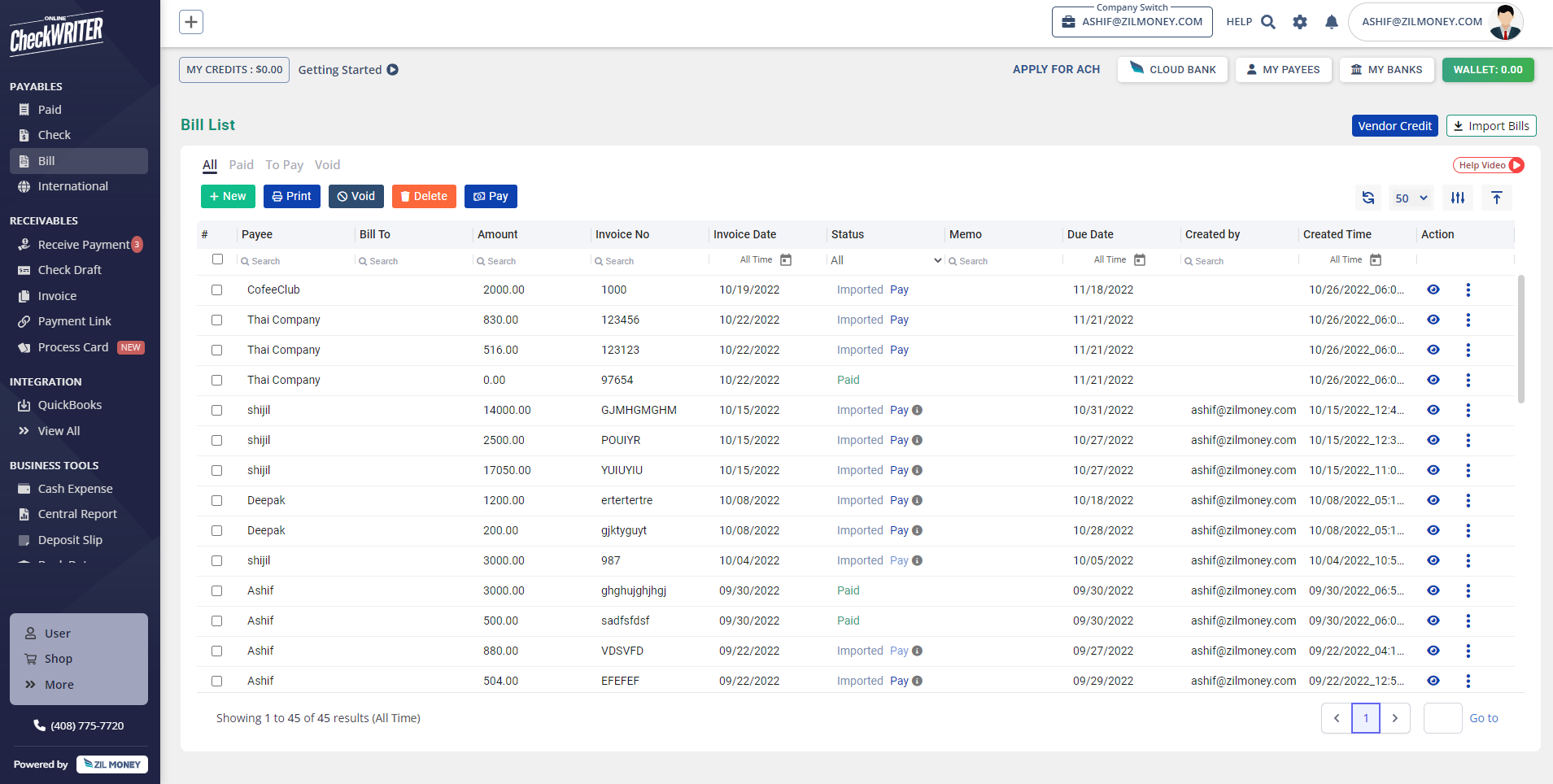 Step 2: Select companies, time span, Download filter and click Start Importing button.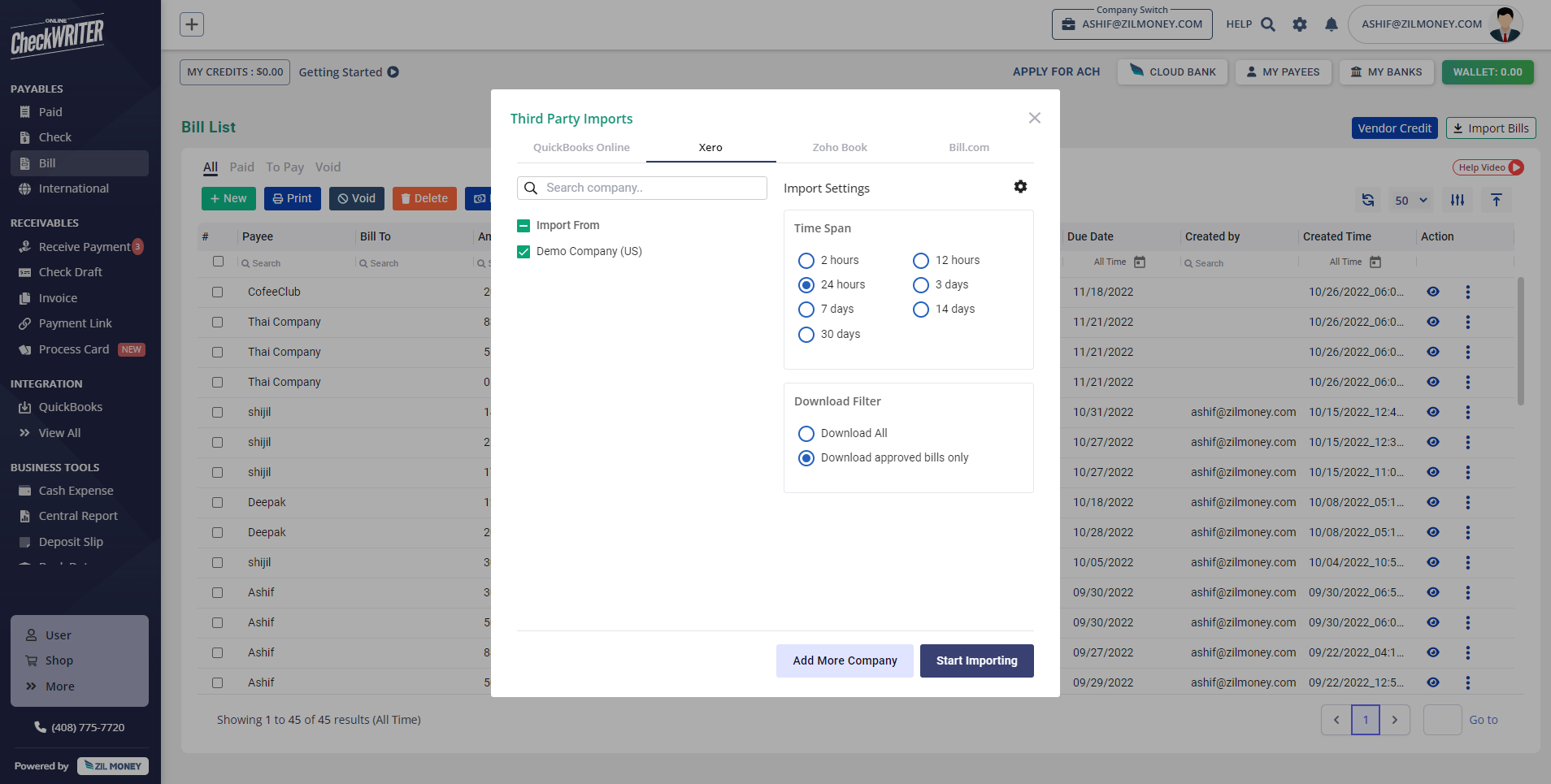 Step 3: Once import completed you will get a success message. You can see the imported bill/Invoice in the list with status "New".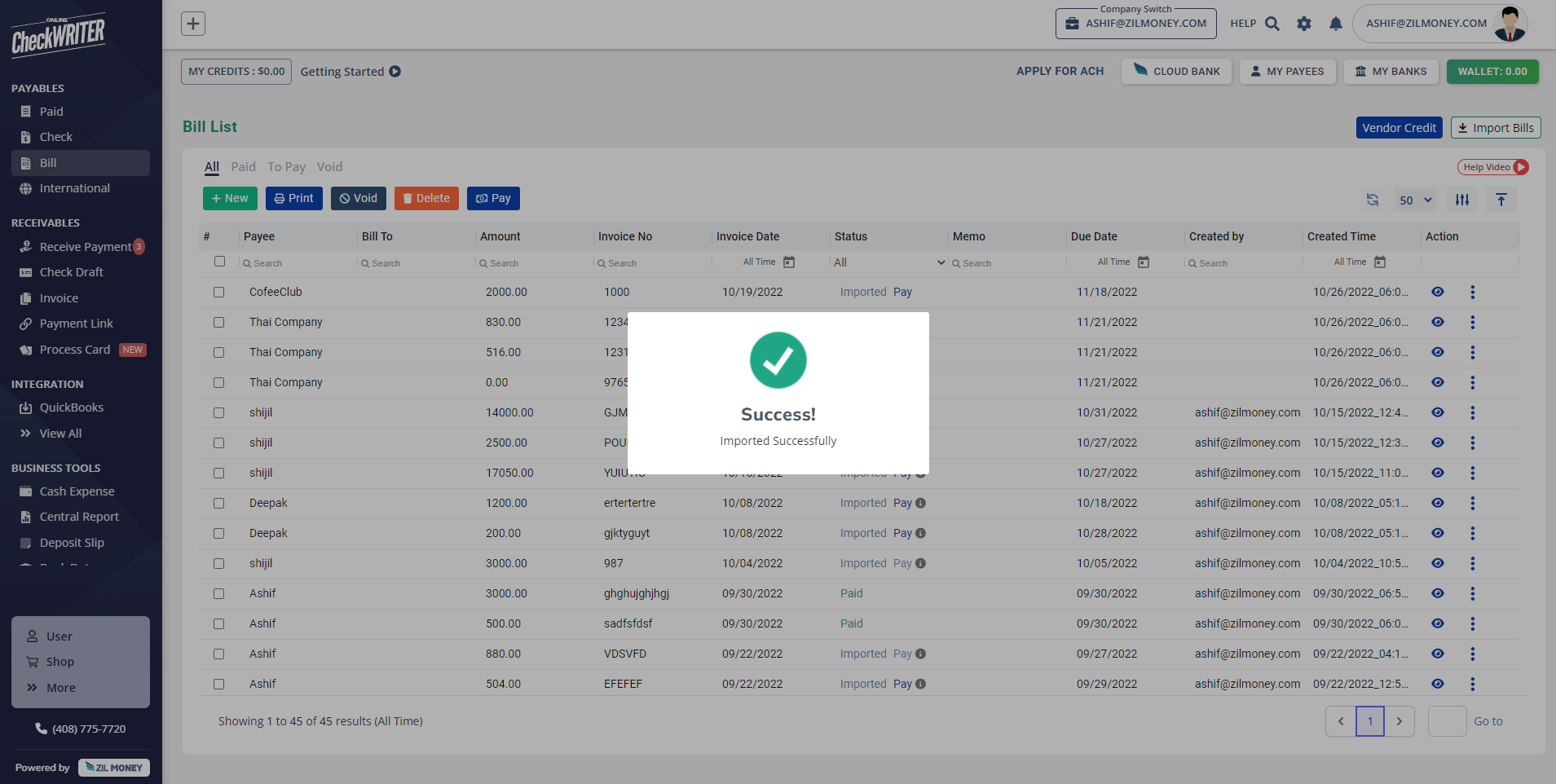 Step 4: Payment: You can pay the imported bill or send the invoice for the payment. To reflect the payment in Xero, you have to choose the mapped bank accounts for the bill/invoice.

Disconnect a company
Step 1: goto the Xero integration page (Side menu-> Integration-> Xero) and click on the disconnect button corresponding to the company.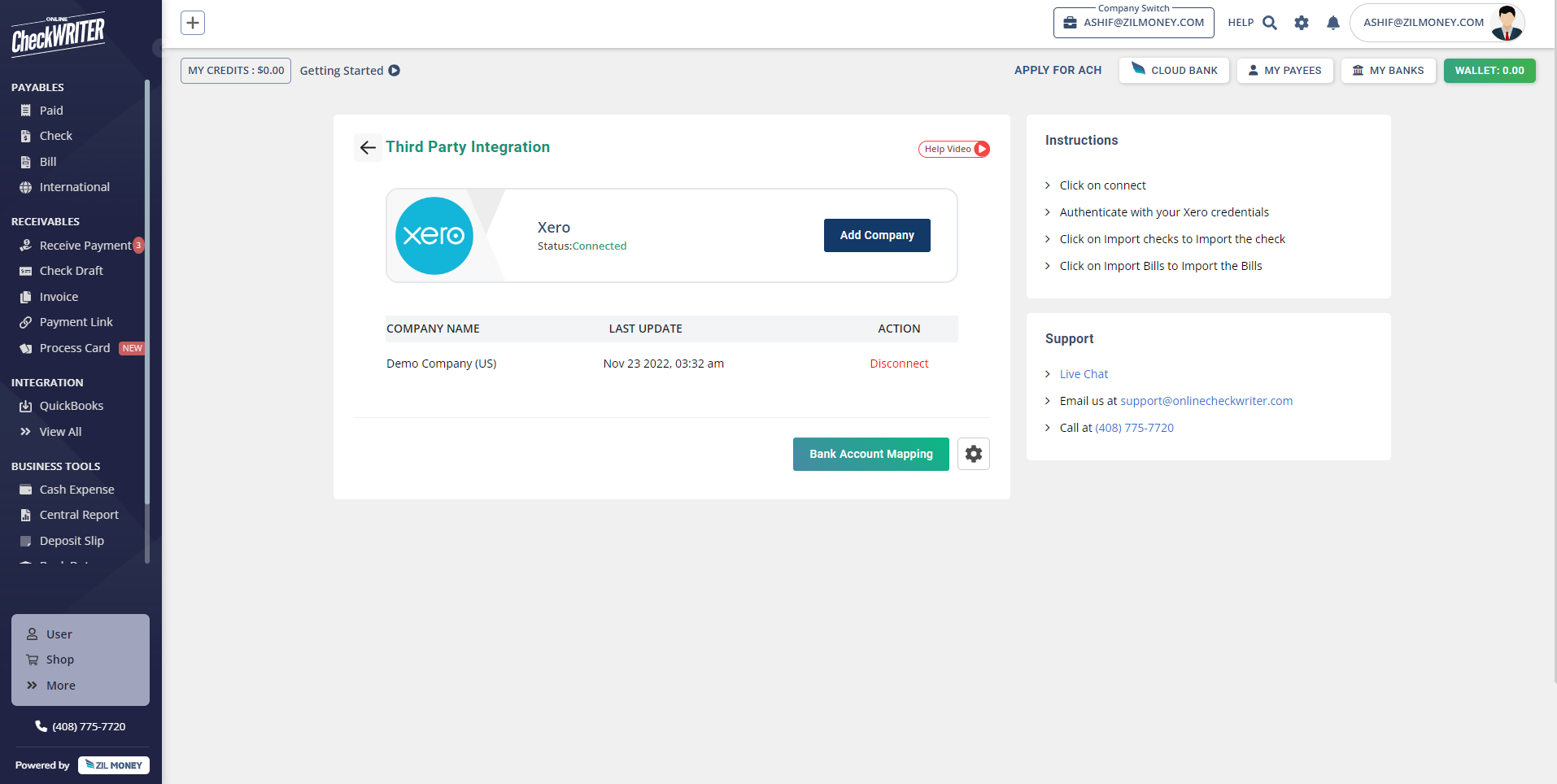 Step 2: Click ok on the confirmation message. You will get a success message.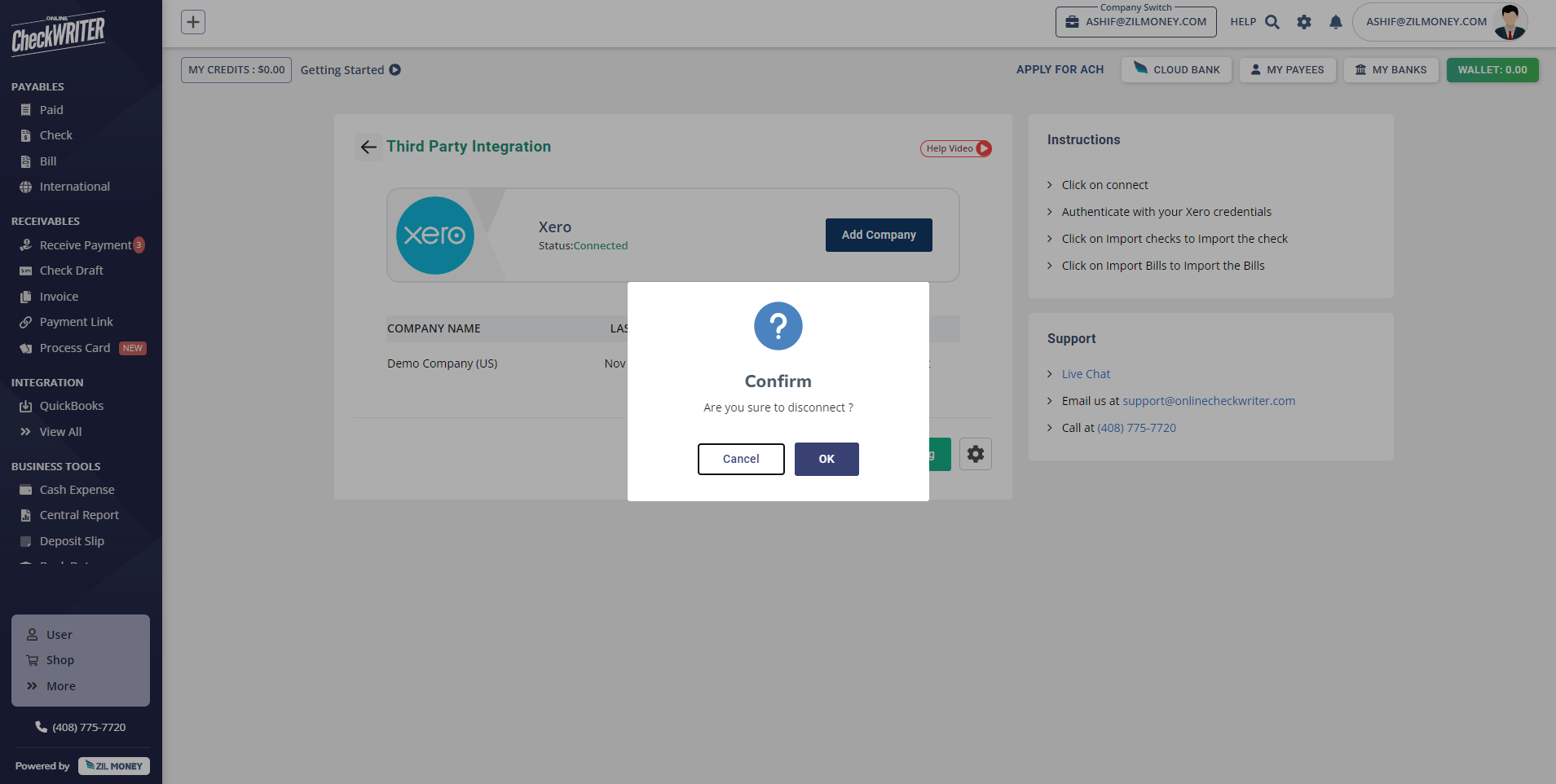 Video Tutorial
Related Articles

What are the charges for Online Check Writer?

Choose the Best Plan for your Business We care about your convenience in using the application. Find the plan that works best for your business. You can update the plan anytime. Pay as You Go $0 No Minimum Spend Initial Recharge $30 Business $49.99 ...

What is online check writer?

Online Check Writer is a cloud-based check writing software that allows users to create, print, and manage checks online. It can be used by individuals, businesses, non-profits, and other organizations to streamline their check writing process. Some ...

How do Online Check Writer's pricing plans work?

Online Check Writer's pricing plans charge on a monthly plan basis. Online Check Writer charges $ 1.00 per check to outsource a check-in general cases. You create checks online and click mail it, Online Check Writer instantly print that check, stamp ...

ADP Integration.

How to do ADP Integration?

Cost of mailing a physical check using Online Check Writer

Our company charges a standard $1.25 mailing fee per check. We pay for the stamp, high-quality check paper, envelope, MICR ink, labor, and delivery to the post office on the same business day. Currently, no tracking services are provided with the ...